Coconut oil in cosmetics:
Ophylor answers your questions
Laurie, a cosmetic chemical engineer graduated from ISIPCA, naturopath and founder of Ophylor, answers your questions about the use of Coconut oil in cosmetics. With this article, discover how to use this oil for your hair, skin and face!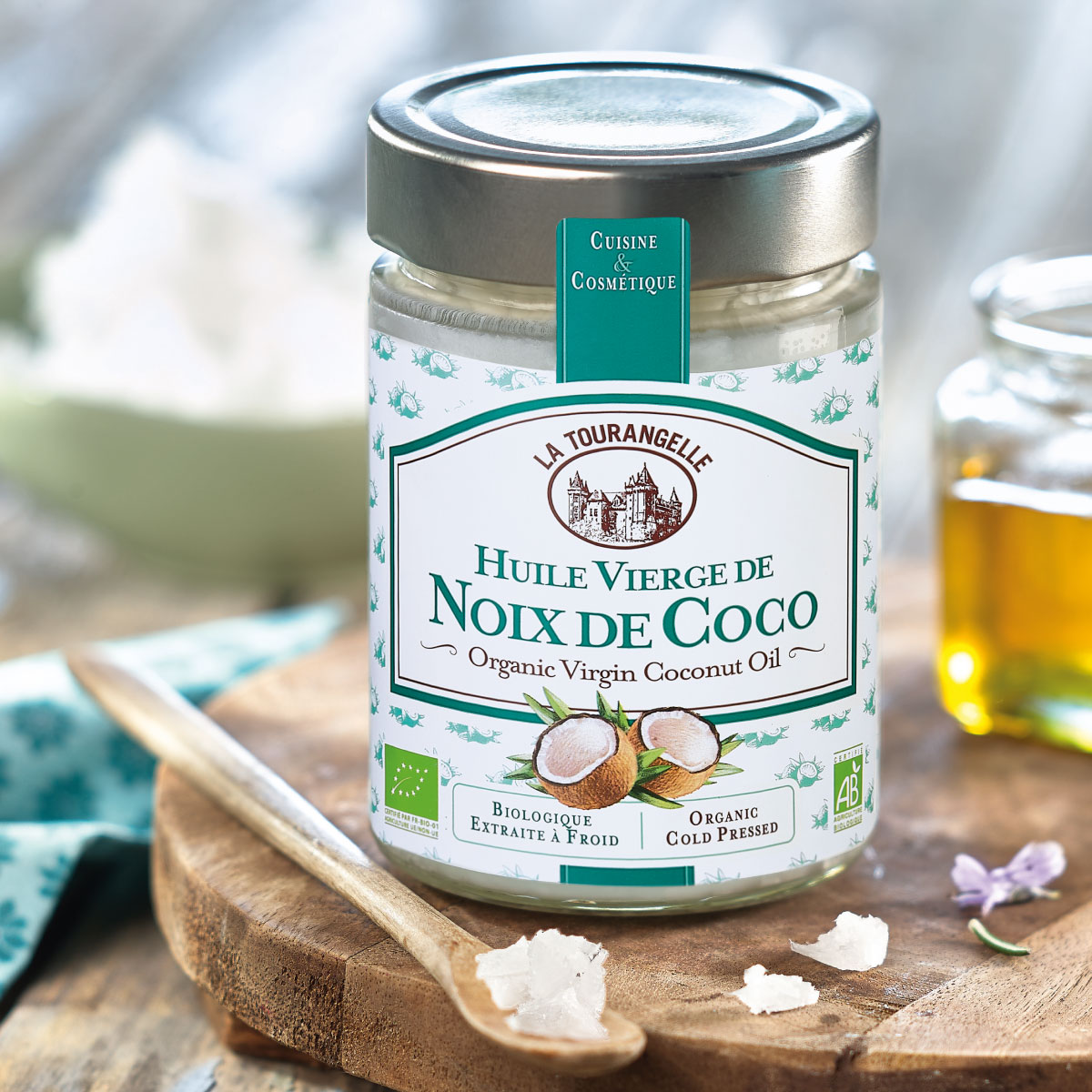 COCONUT OIL FOR YOUR SKIN
At what time of day should it be applied to the face? Several times a day or just once?
Coconut oil has a very stable chemical structure and its long chain makes it a very nourishing ingredient, limiting dehydration in the skin. However, this naturally occlusive structure gives it a disadvantage, that of being comedogenic. That is to say, it encourages the appearance of comedones or blackheads. Coconut oil is therefore a quality oil with a great interest for body and hair care, but it should be avoided for facial care, particularly for people with mixed to oily skin or with imperfections.
For those who still wish to use it on the face because no discomfort has been experienced after use, it can be used in the morning and/or evening at your convenience. Its dry texture, with a non-greasy feel, allows it to be applied in the morning and to be able to apply make-up afterwards if necessary. In the evening, it is very pleasant to massage into the skin to nourish it after cleansing and you can enjoy its natural gourmand smell as you fall asleep.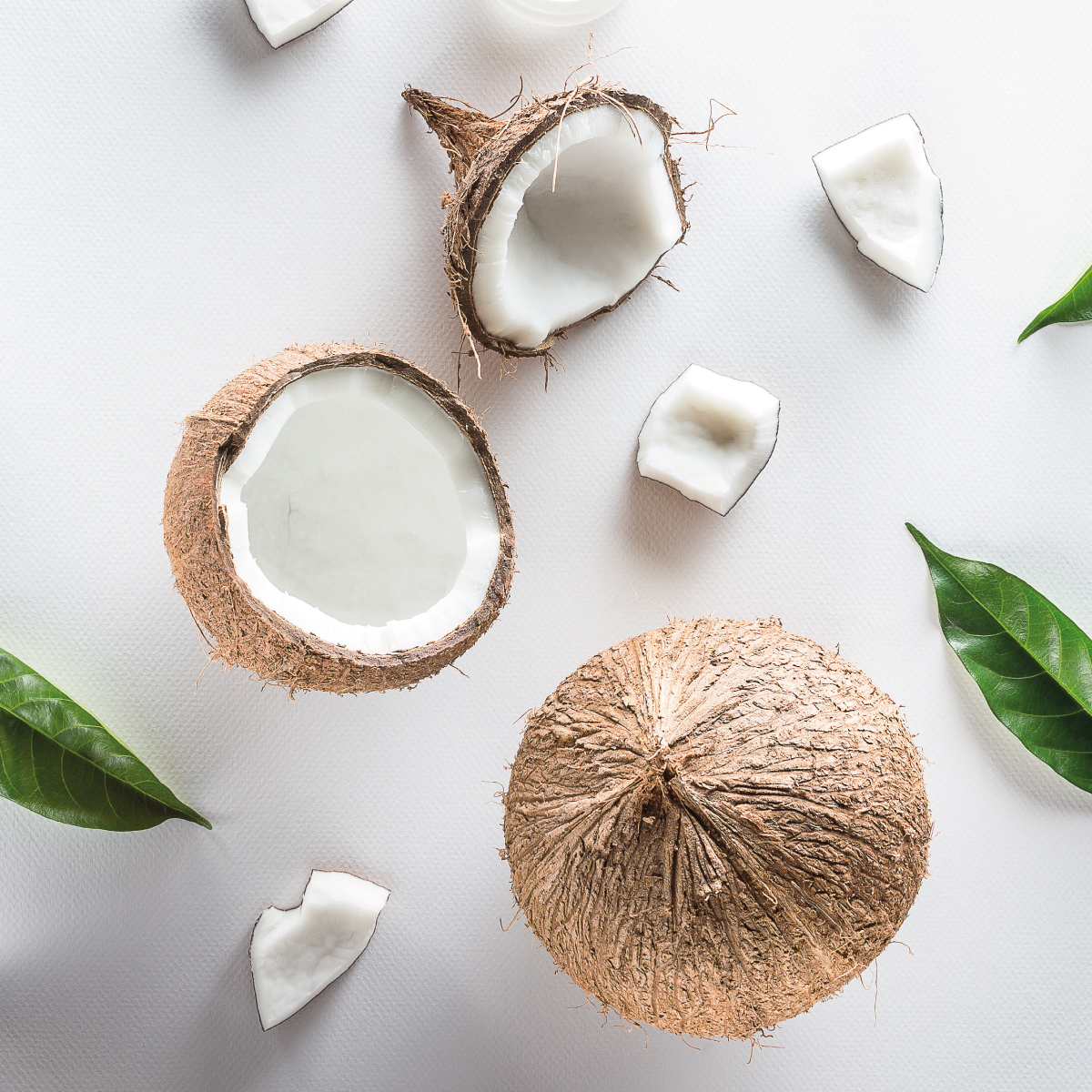 Should it be used in addition to a day cream or does it stand alone?
A vegetable oil such as coconut oil helps to nourish the skin, soften it and limit its dehydration. The driest and most dehydrated skins will still need to supplement with water. This can be done by applying a cream immediately afterwards or simply by spraying the area concerned with a floral or mineral water before applying the oil. It is important to respect this order of application because coconut oil, having more affinity with the skin than water, will improve the penetration of water into the skin and therefore the minerals it contains.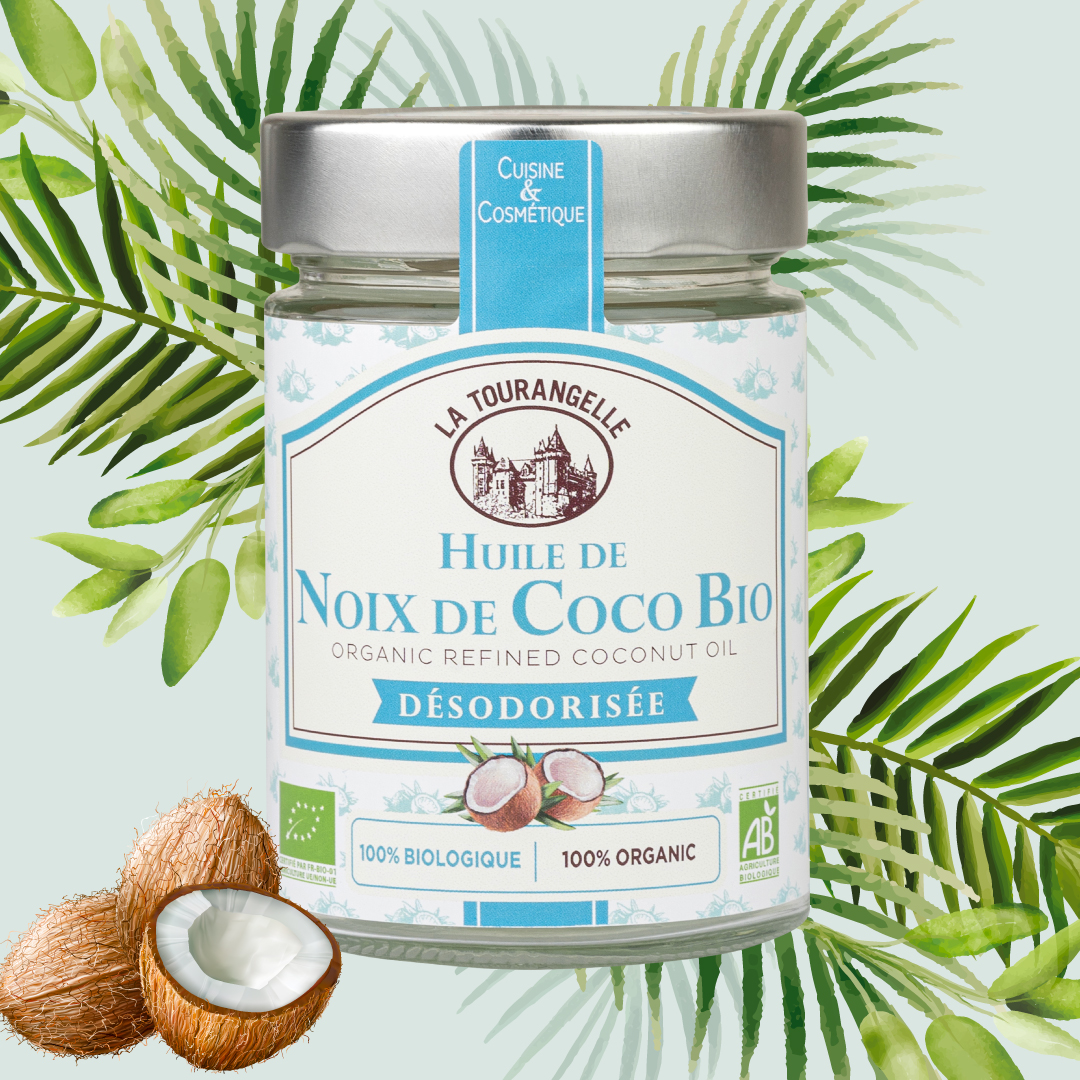 If I use it as a make-up remover, is it enough to moisturise the skin?
Although I don't recommend using coconut oil for the face, it is still very effective and gentle for removing make-up. Depending on your skin type, coconut oil alone can be enough to nourish your skin. But depending on your make-up removal ritual, the products you use in addition and your skin type, it may be sufficient or it may be complemented by a skincare product right after. You have to trust yourself and interpret what you feel. If your skin feels tight and uncomfortable after your make-up removal, it is necessary to complete with another care product. Otherwise, it will be sufficient.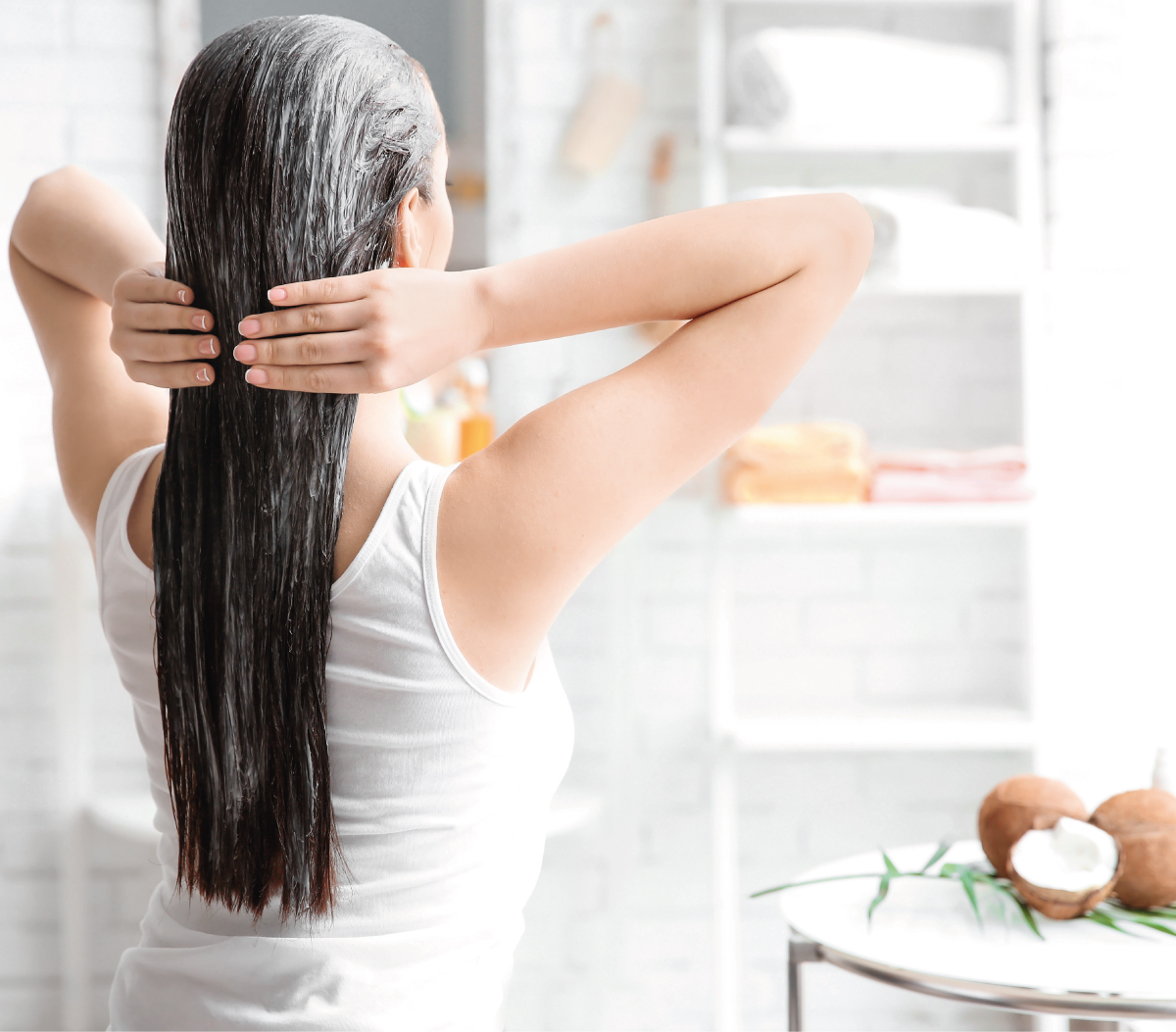 COCONUT OIL FOR YOUR HAIR
Should it be applied to wet or dry hair?
Coconut oil can be applied to dry or wet hair, depending on the main properties you wish to achieve, before or after shampooing.
As an after shampoo care, it can be applied to dry hair to nourish the hair fibre, to add shine and to discipline curly and frizzy hair. On wet hair, it will also nourish the hair fibre and help condition the hair and improve detangling. For fine hair, however, be careful not to use too much and prefer to use it on damp hair to avoid over-greasing it.
As pre-shampoo care, You can apply it to dry hair and leave it on for at least an hour, ideally overnight. The coconut oil will nourish the hair and make it supple again.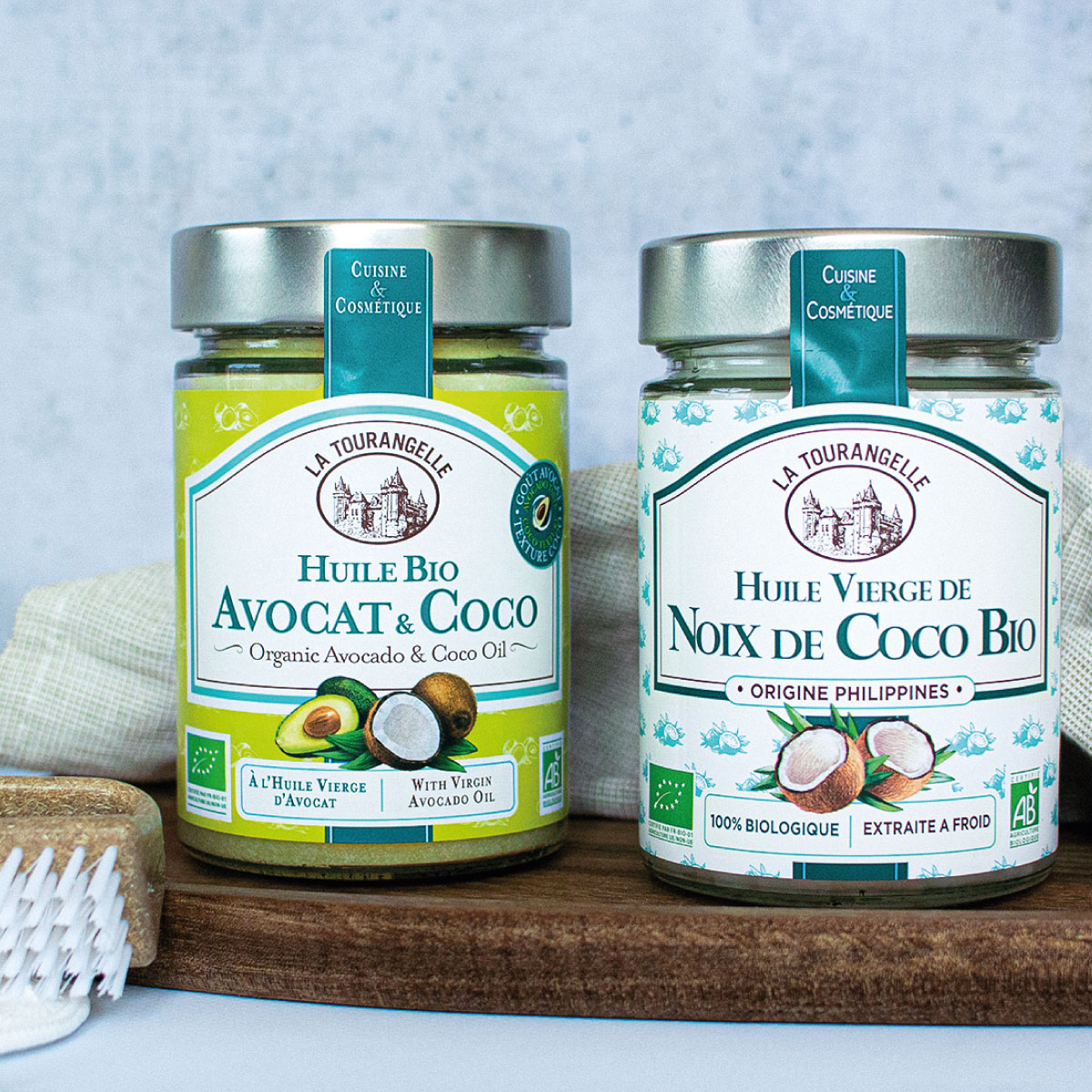 If you use it as a conditioner, how long should you leave it on for normal hair? On dry hair?
When used as an after-shampoo treatment, coconut oil nourishes the hair fibre and adds suppleness to both normal and dry hair. Dry hair will need a little more as the oil will absorb more quickly. If you have an oily tendency at the roots, distribute the oil only on the lengths.
It is also important not to confuse a treatment applied after shampooing, as recommended above, with a conditioner. Coconut oil is ideal as an after-shampoo treatment, applied moderately, so as not to grease and weigh down the hair. But it is not a conditioner. It doesn't rinse out and will leave your hair sticky if you use it as a conditioner.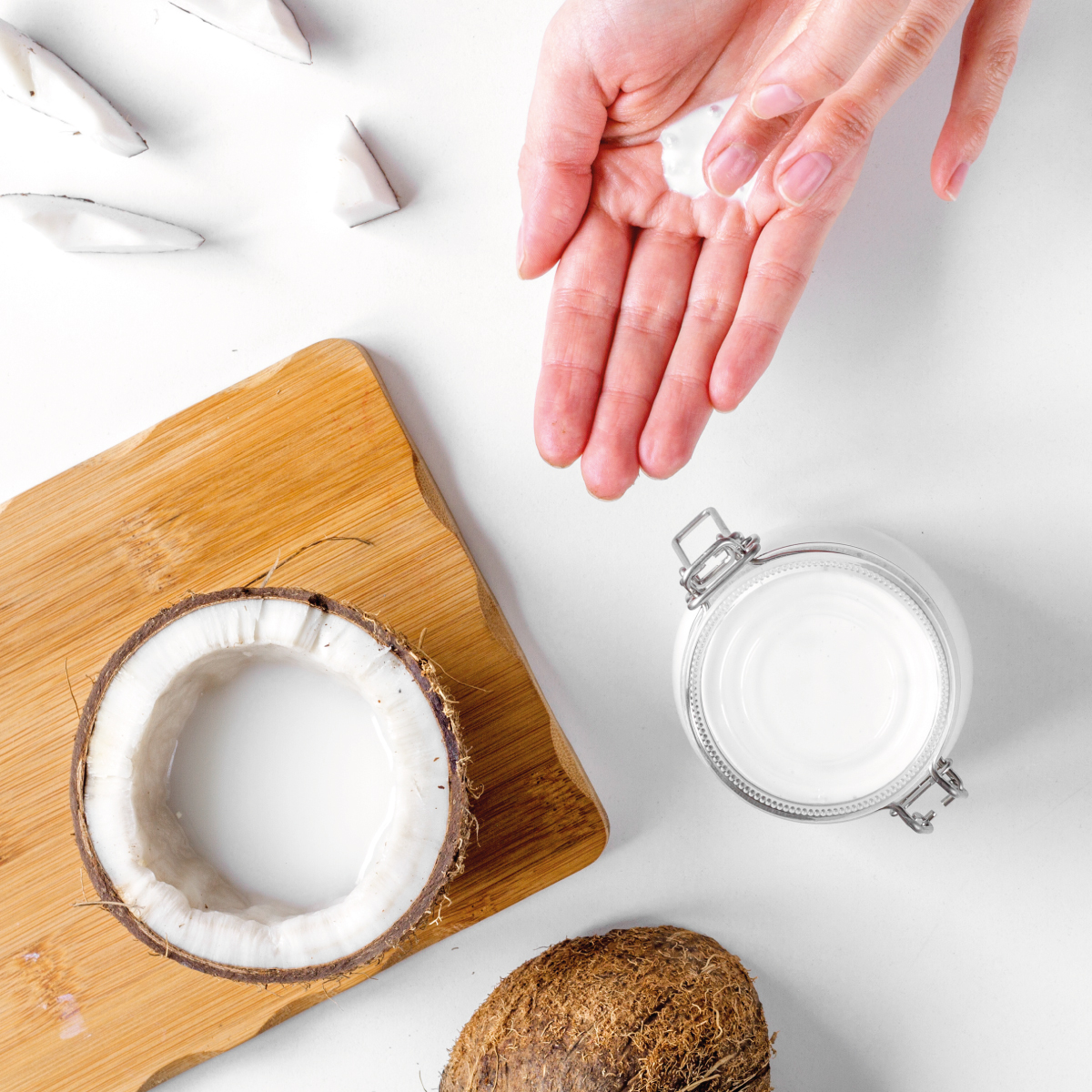 Can it be used on hair that tends to be oily?
Absolutely. Hair with an oily tendency can also have weakened and dry lengths. So use it on the lengths without making the roots more greasy.
Do you have further questions about the use of Coconut oil in cosmetics?
Visit ophylor.com for more naturo-cosmetic advice, discover Laurie's workshops and make your own custom cosmetics!