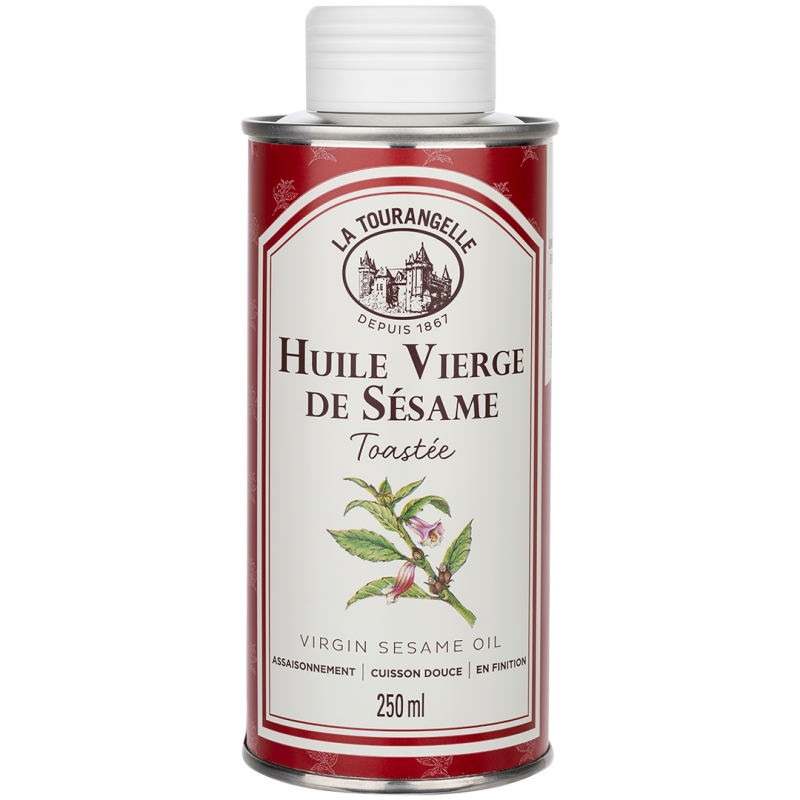  
Virgin Sesame Oil (250ml)
250ml tin can.
Virgin sesame oil in several formats:
Enjoy virgin sesame oil in 250ml and 500ml formats. Offer it to your friends and family with the "Oils of the World" set with Thai Wok oil and Avocado oil.
Ingredients
Ingredients : 100% virgin Sesame oil
Nutrition facts :
For 100g
| | |
| --- | --- |
| Energy | 3 700kJ (900 kcal) |
| Fat | 100g |
| Of which: |   |
|           - Saturates | 16g |
|           - Mono-unsaturates | 41g |
|           - Polyunsaturates | 43g |
| Carbohydrates | 0g |
| Of which sugars | 0g |
| Protein | 0g |
| Salt | 0g |
Bottled in a factory handling nuts ands sesame seeds.
Recipe ideas
Manufacturing
Recipe ideas
Keep
Ingredients & Nutritional values
Salad dressing with sesame oil Asian sauce: 1 glass of virgin sesame oil La Tourangelle, 2 tablespoons of white wine vinegar, 1 tablespoon of soy sauce, 2 coffee spoons of sugar, 1 / 2 teaspoon of crushed pepper. Mix all the ingredients together with a whisk - it's ready!
Classic sesame dressing: Virginia Sesame Oil The Tourangelle, freshly grated ginger and mustard make up a delicious cocktail to complement your desires for raw vegetables.
Sesame and tofu sauce: 1 teaspoon of sesame oil La Tourangelle, 1 / 2 glass of sesame paste, 1 clove of minced garlic, ½ lemon juice, salt. Mix all the ingredients together in the blender.
Spinach sautéed in sesame oil: 2 Teaspoons of Sesame Oil Tourangelle, 1 tablespoon of sesame seeds, 2 crushed garlic cloves, 2 teaspoons of grated ginger, 280 g fresh spinach without stems, 2 spoons at coffee of rice vinegar, 1 teaspoon of soy sauce with reduced sodium content. Heat the oil in a large non-stick skillet. Add the sesame seeds, garlic and ginger; let back about 30 seconds stirring - the time the fragrances free themselves. Add the spinach and cook about 2 minutes, stirring regularly. Remove from heat, add vinegar and soy sauce, mix, and serve immediately.
Easy Vegetable Reg: decorate all your vegetables, especially leaf (salad, cabbage, etc.) with a virgin oil of Sesame La Tourangelle.
Avocado with sesame oil: pour a filet of Virgin sesame oil La Tourangelle on your avocados, salt, pepper ... taste!
Fillet on grilled fish: halibut, salmon, tilapia ...
Articles