With its slightly bitter hazelnut flavour, virgin linseed oil adds a touch of character to seasonings. But not only that! Each spoonful contains precious nutrients, which are essential for the proper functioning of the body.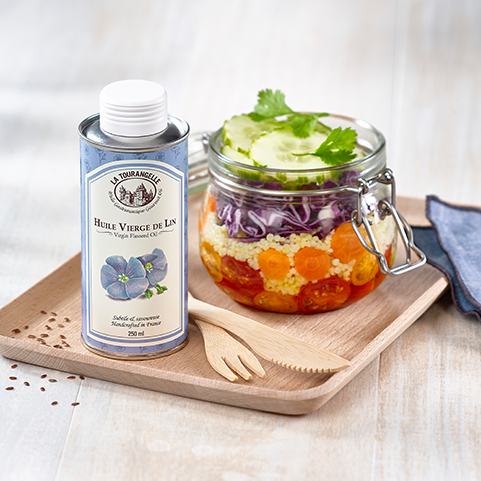 #1 Virgin flaxseed oil is extremely rich in omega-3
Virgin Flaxseed oil is an excellent source of omega-3. These essential fatty acids protect our cardiovascular health and contribute to the proper functioning of our brain. What makes them special? As they are not produced by the body, only our food can provide omega-3. They are therefore extremely coveted!  Especially since very few ingredients contain them. And among them, virgin flaxseed oil. So you can reconcile health and taste pleasure!
#2 Virgin linseed oil is perfectly balanced
In addition to omega-3, virgin flaxseed oil contains a good proportion of omega-6. These essential fatty acids are also full of benefits. However, although they are very beneficial to the body, they tend to be consumed in excessive quantities in our modern diet. On average, we consume 20 times more omega-6 than omega-3, when we should only be consuming 5 times more at most! Unlike other oils, virgin linseed oil offers a very good balance between omega-6 and omega-3. One more argument in favour of this delicious elixir!
#3 It is ideal for dressing a salad
<p
Virgin linseed oil is one of the oils that can only be consumed cold, like virgin Walnut oil or Rapeseed oil. It can be used to season a cold starter or a salad. Incorporated into a vinaigrette or simply drizzled, it goes very well with the sweetness of grated carrots or the freshness of a fennel/orange salad. Very subtle, it also awakens the taste buds by seasoning a ceviche or a fish tartar.
#4 Virgin flaxseed oil allows us to vary the oils on our plates
Virgin Flaxseed oil allows us to vary the oils we consume on a daily basis! And did you know that changing your oil regularly is good for your health? In fact, this is the best way to take full advantage of the nutritional qualities that each variety of oil has to offer. A good reason to make infidelities to our beloved Olive oil and to think more often of the daring virgin Flaxseed oil!
#5 Mixes easily with other oils
For those who find virgin flaxseed oil slightly too bitter, it is possible to mix a spoonful of virgin flaxseed oil with a spoonful of olive oil for example.  In this way, you can improvise a tailor-made seasoning and enjoy even more balanced nutritional benefits. Grapeseed oil can also be mixed with virgin Flaxseed oil. It's up to you to be as creative as you like!
#6 Flaxseed oil helps get rid of bad cholesterol
Its exceptional omega-3 content also explains why the consumption of virgin linseed oil is regularly recommended as part of an anti-cholesterol diet. Its richness in unsaturated fatty acids and its low level of saturated fatty acids naturally reduce the proportion of "bad cholesterol" while promoting good cholesterol.
#7 It is a vegetarian's ally
As omega-3 fatty acids are mainly contained in meat and fish, it is not uncommon for people who do not eat any animal products to suffer from deficiencies. Flaxseed oil is therefore a fabulous ally for filling up on "good fat" and staying in great shape.
#8 Virgin Flaxseed oil also has beauty benefits
Virgin Flaxseed oil has more than one trick up its sleeve! This multi-purpose oil is also known for its hydrating and rebalancing properties for the skin and for pampering acne-prone skin. It also works wonders on hair lacking nutrition and volume.
Discover La Tourangelle virgin Flaxseed oil ici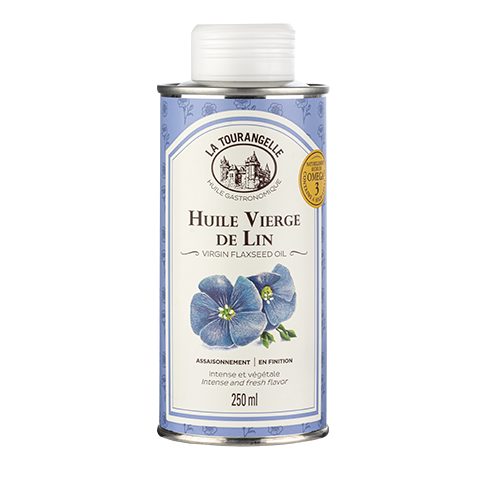 A little advice for its conservation: once opened, our bottle can be kept in the refrigerator like a fresh product. We advise you to consume it within three months of opening. After that, do not use it if you notice an unpleasant smell.
1. source : AFSSA, rapport NUT-Ra-Omega 3;  Artemis P. Simopoulos, Importance of the Omega-6/Omega-3 Balance in Health and Disease: Evolutionary Aspects of Diet, 1er Janvier 2011).
2. source : AFSSA, Avis de l'agence française de sécurité sanitaire des aliments relatif à l'actualisation des apports conseillés pour les acides gras. AFSSA – Saisine n°2006-SA-0359